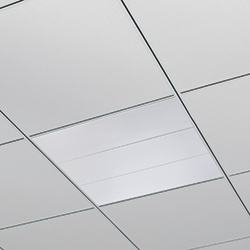 Radiant Panels are an elegant alternative solution to traditional wall mounted radiators, convection heaters and air conditioning systems. Provides heating solutions for a wide range of applications including, offices, schools, healthcare and leisure.
Suitable for use in both Standard T-Grid and Micro T system ceilings.
Each panel individually packaged for protection
Loop panel width 595mm; available in lengths 595mm, 1195mm, 1795mm, 2395mm and 2995mm.
Panel performance supported by independent test certification to EN 14037
For bespoke specifications, including cooling capability please contact us to discuss your requirements
Benefits
Create a more comfortable environment for occupants by creating an even temperature distribution across the room
Save energy and money by achieving a higher perceived temperature than the actual room temperature
Works well with lower temperature heating systems
Provide an efficient solution offering a short heating and cooling time
Installed within a ceiling or high on a wall they maximise wall and floor space
Silent operation
No dust/bacteria dispersal offering a hygienic solution
Maintenance free and easy to clean so lower cleaning costs
Integrated in plasterboard
Finish
Material: 2mm high-grade aluminium extrusion, lightweight, robust, optimum response time.
Finish: RAL 9016 white powder coat.
Insulation: Rigid non-fibrous, foil-faced insulation to EN13165 fire rating A2.
Installation
Suitable for use in Micro T system and standard T-Grid system ceilings.
Please note that Sargasso is compatible with regular ceiling profiles, but not compatible with Tegular or Microlook ceilings.
Suspension:
Suitable for installation from drop rods (not supplied). Panels 1200mm or less will require 4 fixing locations, longer than 1200mm will require 6 fixing locations.
For technical data and ordering guides click here
The Smith's technical sales team is available to offer free, no-obligation advice on the best heating solution for an almost exhaustive range of applications. Contact us