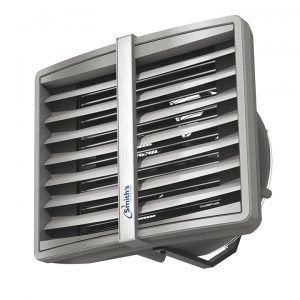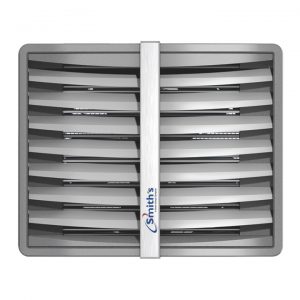 A modern and lightweight hydronic fan-assisted unit heater designed to heat large areas such as warehouses, showrooms and workshops.
Lightweight for easy installation <15kg
High performance heat output up to 70kW
Air volumes up to 4900 m³/h
3 speed fan
Attractive design
Five year warranty
Finish
Expanded Polypropylene (EPP) – Silver grey
Installation
Suitable for wall or ceiling mounting. Bracket design aids installation at also 30° and 60°.
Controls
Panel COMFORT
Manual temperature regulation
Fan speed change
Ventilation in summer season
Control up to 3 pcs of HEATER
Panel INTELLIGENT
Weekly thermostat
Automatic change of fan speed depending on room temperature
BMS communication
Control up to 2 pcs of HEATER
Splitter MULTI 6
Control up to 6 pcs of HEATER
For technical data and ordering guides click here
The Smith's technical sales team is available to offer free, no-obligation advice on the best heating solution for an almost exhaustive range of applications. Contact us