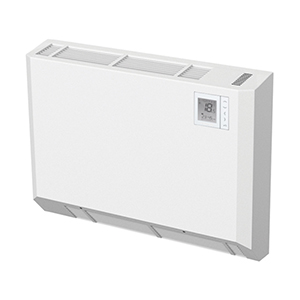 Ecovector Low Level fan convectors provide warmth from the floor upwards and are more energy efficient and effective than radiators
The Ecovector can heat up a room more quickly than radiators, thereby reducing the amount of time your boiler or heat pump is running – making it extremely efficient and cost effective
Compatible with most types of wet central heating systems, functioning equally efficiently with conventional boilers, biomass technology or ground or air source heat pumps
Ideal for new and existing developments, due to ease of installation, the Ecovector is available in a range of models to suit varying room sizes and heat output requirements
Motor
AC only
Finish
Front casing: zinc-coated steel.
Polyester powder-coated RAL 9010.
Side panels: polymer eggshell white.
Installation
Mounting bracket supplied.
Unit must be earthed.
Suitable for two-pipe central heating systems.
Minimum height above floor level 150mm.
Maximum height above floor level 500mm.
Commissioning
Check water is hot enough to activate the selectable low temperature cut-out thermostat.
Controls
Built-in smart control with fan, time and temperature control.
Low temperature cut-out thermostat set to energise fan at approximately 35°C.
For technical data and ordering guides click here
The Smith's technical sales team is available to offer free, no-obligation advice on the best heating solution for an almost exhaustive range of applications. Contact us