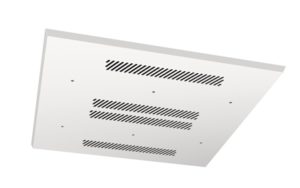 The Skyline® fits neatly into existing ceiling space – replacing a 600mm x 600mm ceiling tile and because it is ceiling mounted, it saves valuable wall space – particularly important in retail units. It is unobtrusive and effective.
Supplied as standard in white but can be supplied in any colour.
The Smith's technical sales team are available to offer free, no-obligation advice on the best heating solution for an almost exhaustive range of commercial applications.
Features
High-output fan convector effectively heats large areas
Recessed or ceiling-mounted so no encroachment on valuable usable space – ideal for storage areas or retail spaces
Also available in an electric model
All models are supplied with a remote operating switch