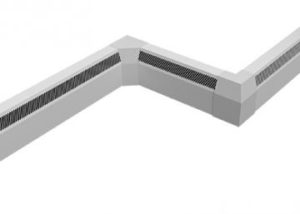 The Sureline® Low baseboard is the ideal heating solution for areas where wall space is limited, or where gentle low-level warmth is required – rooms such as showrooms or waiting areas. Simple to install along the skirting in any room, Sureline® Low baseboard is an efficient natural convector that provides discreet heating.
Supplied as standard in white but can be supplied in any colour.
The Smith's technical sales team are available to offer free, no-obligation advice on the best heating solution for an almost exhaustive range of commercial applications.
Features
Provides gentle, discreet and efficient low-level warmth
Fits easily and neatly at skirting level and can be installed along the entire perimeter of a room
Versatile and simple heating control
Available in a choice of four lengths to suit varying room sizes and heat output requirements