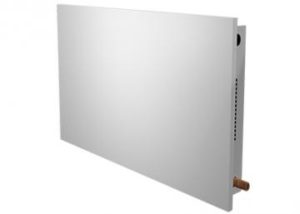 The Eco-Powerad® is the fan convector of the future – energy efficient, responsive and suitable for installation within any wet central heating system, driven by either boilers or low temperature renewable technology. Compact, with smooth lines to achieve visual simplicity, the Eco-Powerad® also features low surface temperature casing for complete safety.
Supplied as standard in white but can be supplied in any colour.
The Smith's technical sales team are available to offer free, no-obligation advice on the best heating solution for your premises.
Features
Very low operating sound – between 28 and 32 decibels (depending on the model)
Considerably smaller and lighter than the equivalent output radiator
Elegant, discreet design enhances and complements working spaces
Optional thermostatic radiator valves provide fully adjustable room temperature control
Available in a range of models to suit varying room sizes and heat output requirements
Hydronic fan convectors are capable of distributing heat efficiently and effectively, whatever the input water temperature