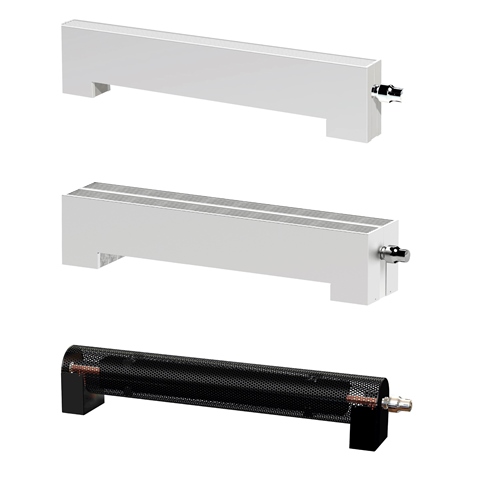 Providing comfort for the built environment, Smith's Environmental Products UK (SEP) is pleased to announce the introduction of Pedestal Radiators to its extensive product portfolio. As part of its expansion plans, under the Swan Group, the addition of a range of Pedestal Radiators has enabled Smith's to further enhance its diverse product offering.
The Smith's Pedestal range comes in three stylish designs, Kiosk, Trafalgar and Tube. The product is designed to be installed at floor level beside large floor to ceilings windows to reduce the problem of condensation. They can also be installed as a decorative solution to heating spaces being placed against the wall.
These products are natural convector heaters and work by air convection currents passing through the high efficiency aluminium finned copper tube heat exchanger through which hot water passes supplied by your central heating system. They are designed for use on standard two-pipe pumped central heating systems.
The three distinctive designs Kiosk, Trafalgar and Tube provide classic solutions to heating spaces. Each version is available in 4 lengths from 500mm to 2000mm with heating outputs up to 2.0 kW/hour.
Smith's Managing Director, Gary Haynes comments, "Since our acquisition by the Swan Group, it has been our strategic intent to increase the Smith's range of domestic and commercial heating solutions, providing greater choice for our customers and clients across the UK. The addition of a range of Pedestal Radiators to the Smith's product range is an exciting move for us, broadening our offering to deliver a stylish solution for a host of applications."
Smith's range of Pedestal Radiators come with a free five-year parts and labour guarantee. For specialist projects, the Smith's technical sales team are available to offer free, no-obligation advice on the best solution for your premises and can advise on which product best suits your requirements. Smith's EP UK prides itself on its ability to deliver bespoke commercial heating and cooling solutions for more individual requirements.
Smith's is known for its market-leading Smith's Space Saver plinth heater, the Caspian range of commercial fan convectors and the Eco-Powerad, which is making great strides in the heat pumps and renewables sector. For more information contact Smith's on 01245 324900; visit www.SmithsEP.co.uk; follow @SmithsEP_UK on Twitter, Like Smith's Space Saver on Facebook or Smith's EP on LinkedIn; or email via sales@SmithsEP.co.uk.
For further information please contact Angus Shield on +44 (0) 7377708217 or Michelle Shield +44 (0) 7875277072 at Agave Creative or email angus@agave-creative.co.uk or michelle@agave-creative.co.uk.