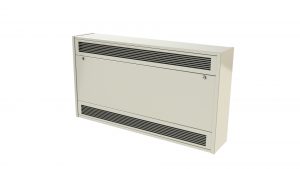 Smith's EP UK's expansion plans, under the Swan Group, continue apace with the launch of a new product in the Caspian range of fan convectors. The Caspian FF is the latest addition to the Smith's EP UK's product suite. Suitable for any commercial application from churches to office buildings, the Caspian FF delivers practical and high performance heating to a variety of room sizes.
The chameleon of fan convectors, the Caspian FF discretely blends in with all rooms styles. Available as standard in white, the Caspian FF is also available to special order in any colour. A matching black or white plinth can also be purchased as an accessory. The Caspian FF can also be ordered with anti-microbial or anti-bacterial paint finishes for high traffic areas where hygiene is of the upmost importance such as schools, hospitals or doctors' offices.
Sales & Marketing Director, Jim Bennett commented, "The Caspian FF is a great addition to the Caspian fan convector product range, which is our most popular commercial range because Caspians are so versatile. There really is a Caspian product to suit any commercial application and, in the unlikely event that there isn't, we will custom make a fan convector to suit the project requirements."
Like all Caspians, the Caspian FF is hydronic and plumbs into any wet central heating system in place in the building. Five models are available, Caspian FF 60, Caspian FF 90, Caspian FF120, the Caspian FF150 and the Caspian FF180. The Caspian FF180, the largest model in the range delivers heat outputs up to 19.2 kW at 80 degrees. Equipped with either AC or EC motors for optimum operational efficiency and compatible with all BMS, there are also a range of additional controls and accessories to support any installation project that requires further technical components. These accessories and the Caspian FF are all available from good merchants everywhere and can be delivered to branch next day in many cases. All Smith's Caspian fan convectors come with a five-year parts and labour guarantee.
Also available in the Caspian range:
For specialist projects, Smith's Caspian range can also be made to order. Smith's EP UK prides itself on its ability to deliver bespoke commercial heating solutions for more individual requirements.
Smith's is known for its market-leading Smith's Space Saver plinth heater, the Caspian range of commercial fan convectors and the Eco-Powerad, which is making great strides in the heat pumps and renewables sector. For more information contact Smith's on 01245 324900; visit www.SmithsEP.co.uk; follow @SmithsEP_UK on Twitter, Like Smith's Space Saver on Facebook or Smith's EP on LinkedIn; or email via sales@SmithsEP.co.uk.